Saturday, November 19, 2011
7:00 pm – 10:00 pm
Star E Rose Cafe  (NE 24th & Alberta)
Music by General Strike and I Wobble Wobble
A Benefit for The Alliance Newspaper
Suggested Donations at the Door: $5 – $20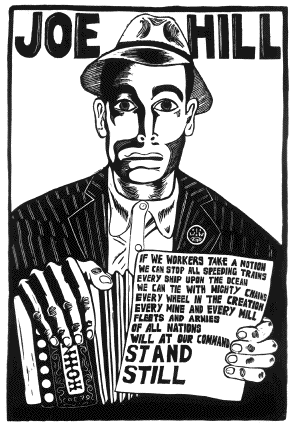 Join General Strike and the IWW for a 30-year Portland tradition, celebrating the songs and spirit of Joe Hill and other radical song writers. Joe Hill, an organizer for the Industrial Workers of the World (IWW) was framed on a murder charge and executed by a firing squad in Salt Lake City, Utah on November 19, 1915.
Joe Hill's famous song, "The Preacher and the Slave" was first released and sung on the streets of Portland, Oregon about 1910. General Strike will sing and lead many Joe Hill songs, along with other rabble-rousing music. General Strike, along with the Portland IWW and others, have been celebrating Joe Hill Night as a Portland tradition since 1990.
General Strike has been leading songs on picket lines and social justice rallies in Portland and the Pacific Northwest since 1987.